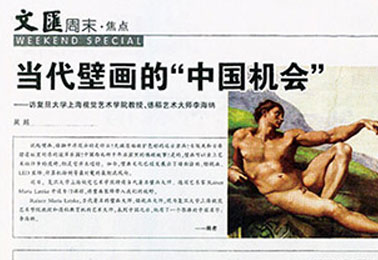 The Chinese Opportunity of Modern Mural Art
An interview with the Professor of Shanghai Institute of Visual Art of Fudan University (SIVA) and the  Master of Beijing Detao Masters Academy, Rainer Maria Latzke.
Recently, SIVA invited the well-known contemporary mural master, the German artist Rainer Maria Latzke, to introduce European mural art to China. He now holds the position of Professor of SIVA as well as the Master of Beijing Detao Masters Academy. When he came to China, he was given a great Chinese name: Li Hainah ("HaiNa" is an old Chinese saying and means that the sea can hold the water from thousands of rivers, it's big because of its capacity. It also describes a person who is great, tolerant and forgiving to other people – a man with the diversity spirit).
Beginning back in the 1980s when the blank walls of the avant-garde art flourished, Latzke swam against the mainstream, refusing monochrome paintings and the cool tone of the Zeitgeist. Although his art work was first sneered at as "kitsch", he wasn't deterred. From 1986 to 1989, Latzke turned the Chateau Thal in Kettenis in Belgium into the palace in Thousand and One Nights without damaging the original aesthetic feeling. In France he is called a true magician of Trompe L´oeil. He creates Baroque as well as science fiction murals.  He has two magic hands that can turn ordinary dining or living rooms, bathrooms and wellness areas into bright joyous dreamlands. His aim is that people feel enchanted when entering a room he has decorated. "The perfect fantasy in contrast to the ferocious outside world." (Read more…)
by Xuan Jin Weekend special, December 16, 2011