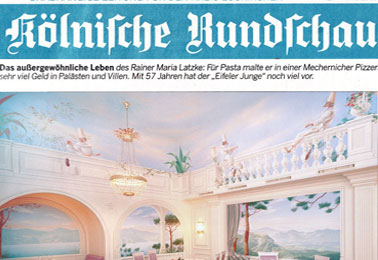 The extraordinary life of Rainer Maria Latzke: In a pizzeria in Mechernich he painted for pasta and, a little later, in palaces and villas. At 57, the "boy from the Eifel" has plenty more to offer.
He is painting for Kings and Sheikhs 
Rainer Maria Latzke: A life in an artificial world and in the world of art
At the end of the 70s Mario Moranelli, an owner of a pizzeria in Latzke´s home town, commissioned Rainer Maria Latzke to paint the walls of his pizzeria in Mechernich. The fee for the Frohngau-born artist: half a year of free food and table wine. A while later, Latzke was charging hundreds of thousands for the decorating of villas, castles and palaces. Mural-painting lead him to Italy, the south of France, California and Monaco. Before his job with Moranelli, he went from one gallery to the next only to be rejected. Pop art was the fast-seller, not classical painting. "They said: You're 200 years too late" remembers Latzke. Moranelli disagreed and his work in "Pinocchio" was featured on the front page of the newspaper "Prisma".
"It was a time when people wanted nobler, classy living". Latzke dove into this market niche and lived in a castle in Belgium.. "I earned a lot of money and I could afford any car I wanted"". You can hardly believe that this "madman" (own description) once was a teacher at the Emil-Fischer High Schools in Rhineland. He completed a master's degree in philosophy and art pedagogy. His father, the late Alfons Latzke, pushed him into a sensible career. "I thought at the time; Picasso didn't teach in the day and paint at night, but I kept at it." The students were forgiving when their teacher was "exhausted". The nights belonged to art and wild-living. He did give modern art a go, as the student of Joseph Beuys: "But that was more politics than art." So he turned to Gerhard Richter: "He was more the classicist". He soon gave up his teaching career and headed to Italy to learn the art of fresco painting…(read more) by Michael Schwarz Nov. 2008