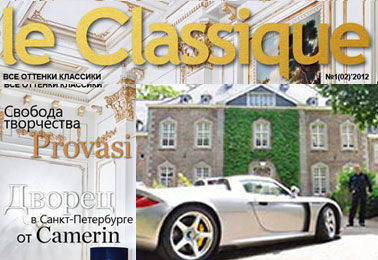 RAINER MARIA LATZKE – THE MASTER OF MURAL PAINTING AND GURU OF THE ART OF FRESCO.
His works adorn the walls of palaces and halls of the richest people in the world today. Inspired by the Renaissance, he was among the first who engaged in the revival of this precious art in the twentieth century, and it is largely thanks to him that today frescoes are so popular among connoisseurs of wall-paintings. The author's patented technology Frescography – which having no analogues in quality and color reproduction, has opened new horizons for creating masterpieces. Exclusively for our readers: The Le Classique exclusive interview with a man who knows how to push the boundaries of space through paint and brush.
CL: Professor Latzke, you are a professional painter. What has drawn you to be engaged in wall painting?
Latzke: When I traveled to Italy after my studies, I was fascinated by the Renaissance palaces and their frescoes. I considered the idea of walking right into a picture and becoming a part of it quite surrealistic and therefore modern. That was in the 70s and I was surprised that no other artist discovered this fantastic art at that time – but that changed quickly when they saw the great success in bringing this art back into contemporary interior design. CL: What subject in making murals appeals to you the most? Latzke: To have an almost endless canvas, to make people happy and giving them a paradise where they can relax from the daily´s world´s stress.
CL: What is the role of mural in interior design? In what premises is wall painting acceptable? And where is wall painting not applicable?
Latzke: A good wall painting respects the architecture and must be subtle. When my students come and tell me that somebody came into the room and praised the wall painting I tell him not to be proud of that. A good wall painting is when somebody enters the room and says: "Wow, what a wonderful room!", and only after looking around: "and the mural is awesome too!"
CL: What mural style or theme you have done you like the most?
Latzke: I always like the latest ones which are kind of fresh and new for me.
CL: Is there a fashion in the art of murals? If there is, what is in fashion nowadays?
Latzke: When I started in the late 70s there was nobody to do it and not even a demand. The people had just forgotten about wall painting. When the first magazines featured my work it was like an avalanche which swept me away. All of sudden everybody wanted my work and to fulfill the demand I had to teach apprentices to assist me. Later on some of them opened their own mural studios and passed the skills on to other apprentices. So it spread out and you could find painted walls in almost every interior design magazine. So it became a kind of a new Renaissance for this art.
CL: Is interior mural a luxury subject?
Latzke: It was always a luxury subject. In some epochs it was called "the Art of the Kings and Emperors" because it was so complicated to produce and only the best artists of their time could do it which made it affordable only for the wealthiest. That also became my problem. To make a good mural can take 2-3 months, so you can only produce 4-5 works per year even with the help of assistants. If you have 50 potential clients you can imagine that it has an impact on the price, which is at least into the six figures per project. To escape that trap I invented the Frescography which delivers a unique and individual art work for a reasonable price, produced under my personal guidance and carrying my signature. CL: What things, furniture, textiles are relevant in premises with wall painting?
Latzke: Like I said the wall painting has to always respect the room and go hand in hand with all surrounding elements. So you just have to find the right style and theme.
CL: Mural and minimalism in interior. Is it possible? If you paint walls or ceiling and leave the premises empty, will it look the same way as in cluttered premises?
Latzke: Actually I personally like the clash of styles. There is nothing more sterile than completely minimalistic interior and only robots can survive in such an atmosphere for a longer time. And if somebody only goes for classical or historical then he might end up in a dusty museum. Too much from one style can easily get boring.
CL: High Renaissance painters including Rafael, Michelangelo, and later Vasari, Tintoretto, Luca Giordano and Tiepolo used the «buon fresco» technique. What technique do you prefer?
Latzke: For sure not "al Fresco"! Leonardo da Vinci already tried to escape the rigid regulations under which the artists had to work with this technique. But unfortunately he did not have inorganic paint at that time to do it otherwise. So his experiment using his own developed technique, "The Last Supper" ended despite it's artistic magnificence in a technical disaster and provided a good job for generations of conservators and will do the same for eternity. But we nowadays have the right paint and techniques and it would be stupid not to take advantage of them.
CL: Are there murals in your house and what is depicted on it?
Latzke: I am unfortunately not rich enough to afford my work.