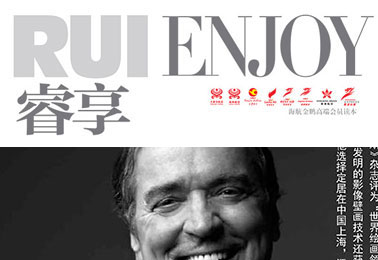 The Michelangelo of Modern Times
In appreciation of his outstanding achievements in mural art and interior design, Rainer Maria Latzke was awarded the honorary professorship of the Shanghai Institute of Visual Art of renowned Fudan University in 2010. 
Classical mural master Rainer Maria Latzke enjoys a global reputation in mural art. His unique creation and restoration techniques brought modern techniques into mural art and led to the renaissance of mural painting in contemporary interior design. He was commissioned with murals for palaces, upscale residences and famous buildings in Europe and Asia, such as the Ras Al Khaimah Palace in UAE, the Ciragan Palace in Istanbul, the Vienna Town Hall and others. In 1992, he was elected as one of the most influential artists of the 90´s decade the Forbes magazine. In 2000, he got a patent for his invention of the Frescography. This talented artist now lives in Shanghai and has a wonderful Chinese name: Li Hainah (Ocean, full of everything). It would not be an exaggeration to suggest that Latzke's mural painting skills appear to come from the hand of god himself. His murals overwhelm the viewer, creating a dreamlike impression and endowing every still object with a soul.
"My parents knew each other when they were studying in Berlin Academy of Arts and later got married. The most of my eight brothers and sisters also inherited our parents' talent. In my family, painting was as normal as writing. I begun to paint from an early age, and was always sure that I would become a famous artist someday, travelling around the world in my luxurious car and not needing to go to school with my brothers and sisters in my father's old car."
Back then he was laughed at by his siblings for telling such stories. But his dream has since come true. In 1984, he bought the 1760 built 38-room Castle Chateau Thal in Belgium and made it his living and working place. Going back to 1976, when Latzke finished his study in Düsseldorf Academy of Fine Arts, he went to Italy to further study the painting techniques and mural art of the Renaissance. "When I saw the amazing paintings of the Renaissance in reality, it was like I was absorbed in them." In his opinion, it was surprising that no modern artist was intrigued by this art form. In the following two years, he focused on studying the painting skills of the classical painting masters until he went back to Germany to create his own work.
"Mural is one of the earliest art forms of human beings. The styles and variations of this art in the different cultures and times are the source of my inspiration." In Latzke's work, classical mural art and contemporary experiences such as anti-gravitation, virtual reality and other unknown phenomena are mixed together. He says that it is the same situation as when the artists of the Renaissance improved the ancient Greek art work. When some media calls him "The Michelangelo of Modern Times" he thinks that this is related more to his creation of ideas than his style. "My target is to be a small pebble in the 32,000-year-long road of mural history."
"I came here in 2010 to teach as the Master of the Mural Art and Wall Decoration Studio of the Beijing DeTao Masters Academy (DTMA). The DTMA is a newly founded elite University which invites the best professionals from all over the world to make China a world leader in creativity and intellectual property." 
by Xuan Jin