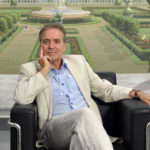 Rainer Maria Latzke is a German artist and wall painter. International media refer to him as one of the leading representative of this art form.
Rainer Maria Latzke was born on December 28, 1950 as the fifth of nine children of an art teacher couple in a small village in the Eifel mountains, Rhineland. After high school he began an art studies at the Johannes Gutenberg University in Mainz and then moved to the Dusseldorf Art Academy, where he became student of Joseph Beuys and Gerhard Richter. He completed his studies with the title of a Master Student as well as Master degrees in art, philosophy and pedagogy. Since his realistic paintings met with disapproval in the then gallery scene, he started teaching art at a high school in his hometown. After two years, he quit the job and went to Italy to continue his art studies in Renaissance painting. He became fascinated by the frescoes of the old masters and immersed himself in their techniques. Upon his return to Germany he became successful as a muralist.
Latzke's works adorn walls in buildings throughout the world, such as the City Hall of Vienna, Royal Palaces in the United Arab Emirates, luxury hotels like the Ciragan Palace in Istanbul and the Royal Clipper, the world´s largest sailing ship. His clients include Mercedes Benz, Maserati and the German rock band 'The Scorpions'. With his invention of the Frescography he created a revolutionary new manufacturing process for large-scale murals. Latzke is included in the list of the Russian Federation as one of the world's best artists of the last four centuries, called by international media  a "Modern Michelangelo" and was ranked by the Forbes magazine as one of the most influential painters of the 1990s. Latzke taught at the Utah State University and the Shanghai Institute of Visual Arts and holds a honorary Professorship of the renowned Fudan University in Shanghai.