(Joseph Beuys)
Beuys' statement surely is correct, but it may require some explanation. Although every human being is born with creativity and the gift to express themselves artistically, not everybody has the opportunity to learn the necessary tools to transport the 'images in the head' into the reality.
The seminars of Rainer Maria Latzke primarily concentrate on the mediation of craftsmanship skills and not on the development of already existing, but never realized ideas.  Just as in the past students entered in the studios of the masters at an early age and developed by color rubbing over execution of sketches and design details until finally becoming independent masters by themselves, the seminars of Rainer Maria Latzke are structured in a way that the participants are introduced according to their actual skills to more and more complex works until they have the necessary capability to independently design and express their ideas in murals.
In his Spanish Atelier Rainer Maria Latzke regularly offers courses and workshops in which students can learn the contemporary techniques of mural painting.
Location:
The workshops take place in Granada, Spain, where throughout the year mainly prevails a sunny climate. Granada is with its historic old town and the world famous Alhambra a World Heritage Site. It is located less than one hour's drive from the beaches of the Costa del Sol as well as the snow-secure ski resorts of the Sierra Nevada. This provides participants with many opportunities for a varied program before or after classes.
Duration:
The workshops last 3 (Working with the FrescoMaster program) or 6 days each (Trompe l´oeil and decorative mural painting). The workshops are time-wise and thematically arranged in a way that a participant can book the entire workshop series in succession or may occupy the next course of the series at a later date.
Workshop objectives:
The workshops aim to enable the participants to independently carry out murals after the successful completion of the workshop series I and II and the workshop III.
Confirmation of participation:
At the end of each workshop, participants will receive a certificate signed by Rainer Maria Latzke.
Accommodation:
The courses can be booked either with or without a hotel accommodation. We recommend booking the workshop incl. hotel accommodation because we have agreed quota prices with upmarket 3 or 4 star hotels in the centre of Granada that are normally cheaper than individual bookings.
Due to the fact that the seminars are offered on an academic level  the costs of the courses are tax deductible.
Current Workshops:
Workshop I: Trompe l´oeil Wall Painting: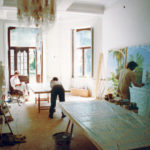 This seminar series primarily deals with the workmanship of executing Trompe l'oeil murals. Trompe l'oeil is French and means 'deceiving the eye'. The art form of illusionistic mural painting that was already performed in ancient Greece, arrived in the Renaissance in its heyday, when the fresco painters rediscovered the for a long time forgotten art of perspective views. This form of illusionistic mural painting was developed in the Renaissance, when the Fresco painters rediscovered the for a long time lost art of perspective views.  see more…
Workshop II: Decorative Wall Painting:
The subject of the workshop is the execution of non-illusionistic decorative wall painting. The 'Panoramiques' called, two-dimensional wall decorations came in fashion in the 18th century in France and  from there found its way to the houses of the upper class in the rest of Europe and North America. One known example of this wall decoration form is the Diplomat Room at the White House. While illusionistic murals expand rooms and are preferably used in swimming pools, wellness facilities and other areas where no furniture or other objects interrupt the painted 'reality' see more…
Workshop III: Working with the FrescoMaster Software: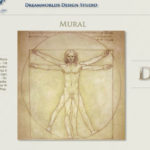 In this workshop, participants will get familiarized with the FrescoMaster Software Virtual Design Studio. You learn how to custom create a mural design out of more than 3,000 individual motifs murals according to the wishes of a client and the architectural features of the object. For this seminar no artistic training is necessary. see more…