The seminar series consists of 4 classes and deals with illusionistic Trompe l'oeil (French for "deception of the eye") mural painting.
Workshop 1: Introduction into the Making of a Mural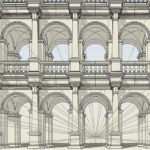 How to find the right theme
Linear and color perspective
Surface preparation & Transfer techniques
Practical application
Workshop 2: Illusionistic Architecture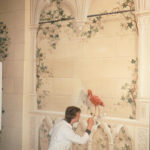 Working with brush and airbrush
Production of stencils
Stone walls, Balustrades & Columns
Cassettes & Niches, Illusionistic Door and Window Frames
Workshop 3: Landscapes & Vegetation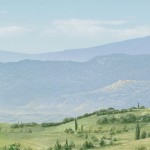 Building landscapes: From the background to the foreground
Separation of the landscape levels by air and dust effects
Water surfaces and reflections
Generating width: landscape perspective
Workshop 4: ceiling painting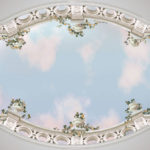 Making of a sky outlook
Birds and butterflies
Tendrils and leaves
Ceiling Architecture: The world seen from below
Workshop 5: Decorative Wall Painting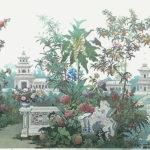 Design creation
Template transfer to the painting surface
Execution of the image background: Sky, mountains, woods
Execution of foreground vegetation
________________________________________________
Programm Details
You can register for one of the workshops at any of the dates below. We then arrange the workshops accordingly.
Duration
Every workshop takes a total of 5 days. Classes are held from Monday to Thursday from 9.30 am to 1 pm and after lunch break from 3 pm to 5.30 pm. The Friday is dedicated to a overview about the history of art and mural painting. The participants also have at this day the opportunity to take part in a guided tour of the Alhambra or another cultural-historical sight in Granada.
Accommodation & Meals
Accommodation is with half-board (breakfast and lunch). The participants will be accommodated in the guesthouses of Monte-a-Lago. The Mediterranean-styled villas consist of one double and one single bedroom, kitchen, living room and terrace. The double bedrooms can be occupied by a second person, so that the participants can bring along a companion without additional cost. It is also possible to rent the whole house. Please check with us for availability.
Arrival and Departure
The arrival is on Sunday afternoons. In the evening, we offer a Welcome-cocktail in which the participants can get to know each other. On Friday evening we invite to a Farewell-barbecue. On the departure day the rooms can be used until 1.00 pm.
Course fee
The fee for the workshop including 6 nights and 5 days half-board in a double room is € 2,450, in a single room € 2.300,-.
Dates of the Workshops:
• 15. 05. – 19. 05. 2017    Booked out
• 19. 06. – 23. 06. 2017    Booked out
• 17. 07. – 21. 07. 2017      Booked out
• 07. 08. – 11. 08. 2017     Booked out
• 18. 09. – 22. 09. 2017
• 16. 10. – 20. 10. 2017
• 13. 11. – 17. 11. 2017
• 08. 01. – 13. 01. 2018
• 19. 02. – 23. 02. 2018
• 19. 03. – 23. 03. 2018
• 16. 04. – 20. 04. 2018
• 14. 05. – 18. 05. 2018