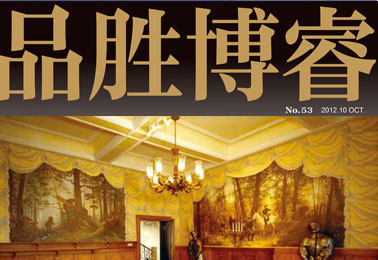 FROM the Past to the future
An Interview with Muralist Rainer Maria Latzke
At this moment, you will get a chance to learn about mural painting from the European Renaissance period. Rainer Maria Latzke is a 62 year old professor of Shanghai Institute of Visual Arts of Fudan University and Beijing DeTao Master Academy. Right now, he prefers to be called his Chinese name Lee HaiNa(李海纳). As one of the contemporary best artists in mural field, RML has been called "The Michelangelo of Modern Times" in Europe and USA. He also ranked by Artists Trade Union of Russia as one of the world-best artists of the last four centuries. RML's work can be found in famous buildings and private residences throughout the world, such as the cabin of the biggest sailing ship "Royal Clipper", United Arab Emirates Palaces and the Vienna City Hall. 
People Call Him "The Michelangelo of Modern Times"
The murals of the Renaissances will remain in museums forever, but RML brought this kind of traditional art to the whole world. From the Vienna City Hall in Austria, to the United Arab Emirates Ras Al Khaima Palace and the cabin of the biggest sailing ship "Royal Clipper" we can find every single beauty from his painting brush and the mural technology. He was commissioned by major corporations like Mercedes Benz, for whom he designed the artwork for their 100 year celebration exhibition, and in southern Turkey he did the decoration of a hotel lobby for a Swiss hotel group.
"Mural is one of the most traditional arts. I could get boundless inspiration from the varied arts and the changing of different cultures and time evolution." RML likes combining the classical mural art with contemporary experiences into his art work. He said, "It's the same way in which the artists from the Renaissance who improved Ancient Greek Arts artwork." The French called him a "veritable magician". He can create all kinds of murals from Baroque style to science fiction. Thus, dining room, living room and bathroom could be made into a living dream.
However, Lee HaiNa's achievements are not only limited to his creation; in the late 80's, he invented Frescography and the CAM Software. This patented technique, allows the user to assemble individual mural designs using a large selection of cut-out images. Prior to starting a design, the dimensions of the wall are entered into the software to create a work space reflecting the project wall. The designs are than transferred in the artist's studio onto a single canvas in wall size and then attached on site using a similar procedure as with wallpaper. Frescographies can be seen in a lot of famous public buildings in the world. This new technology shortened a lot of time for the creation of the mural, and reduced the cost of the creation. In addition, it has let more people to enjoy the art of mural.
From Backward to Go Beyond 
Rainer Maria Latzke was born in a small town in Germany in 1950. He was determined to be a famous artist when he was young. He has 8 siblings, whom also inherited the talent from their parents who were artists and reputable teachers of art. When he claimed, 'Someday I won't squeeze into our old car, I'll drive Rolls-Royce and live in a big castle' he was met with laughter from his family. To everyone's surprise, after 20 years, in 1984, RML acquired the 1760 built "Chateau Thai" in Kettenis, Belgium. He restored the 38-room castle and taught mural painting to numerous apprentices and students in the castle's studio. In 1971, Rainer Maria Latzke went to Dusseldorf Academy of Arts. In the school he met his teacher Joseph Beuys, who was a very famous avant-grade artist at that time. But later, he found out what he learned could only "paint the butter on the wall" or listened to Beuys propagandized his idea of "direct popular referendum". RML thought "he could only understand half of it", he didn't know what he exactly want to do, but he knew that was what he didn't want to do. He applied to switch to Gerhard Richter's class. Richter wasn't as famous compared to now, but RML "learned a lot of useful skills". However, after his graduation, things didn't work out so well. Galleries preferred Beuys creation mode that was about installation art or destruction of objects. The more difficult to understand the more the people wanted.
RML had only skills and "lagged 200 year behind" work at that time. In order to make a living, he worked as an art teacher for 2 years. He felt "I'd rather die, than keep doing this kind of job in 30 years". So he went to Italy. From the moment he saw the paintings, he realized he finally found his 'soulmate'. "When I saw these amazing paintings which from Renaissance, I felt I could walk into the paintings and be a part of them." At that time, there was no mural master. What RML could do was study about the works of past masters and read reference books about their techniques. Right now, people get tired of seeing the avant-garde art or blank walls, although they were eager to get color and warmth. It seemed overnight, people started to enjoy mural which could reflect innermost thoughts in the form of art. As one of the classical mural designers from a all group, RML began to get very popular and got paid well. Beuys's work was not popular any more, and Richter's began to get famous in the world. So Rainer Maria Latzke is 'from backward to go beyond.' "So I always tell young artists, you can do anything if you trust yourself!"
Draw a Picture Which Come from Your Mind
When we mention creative inspiration, Rainer Maria Latzke said,"When I walk into a room, I will sit by my own for a while. Then I'd like to wait until the room talks to me, later the image will appear on the wall. That's the general view, then I can paint according to what I saw from the room."
Compared to other artistic creations, murals are more closer to the nature than the outside world. RML said, "As a muralist, the biggest advantage is when you work, it always connects to the outside world." In comparison, the rest of the art works can be created in studios. Therefore, muralists find it easier to shut out others when they work, out of touch from the world and repeat create the ancestors relics. However, "When you are at work, there will be a lot of customers and other people will visit you, you'd better avoid any mistakes. If you revise 2 to 3 times in the same place, the customers will lose faith in you." When we mention how to deal with working at height, RML said, you will adapt to climb up on a scaffold very quickly. When he was an unknown muralist, he climbed to the 15th floor, and painted outside of the house. The most difficult thing was painting ceilings, because 'His neck was in pain'. "But the desire for exploration will encourage you to do unexpected things. You will find you leap over the hurdles in your heart then 'Survive' in the end".
When RML was an unknown muralist, his works was very cheap. His customers wanted to dictate his creative work, such as using some specific colors. Later, when his works sold for 6 to 8 digits prices, the customers felt ashamed to express their minds. Because 'They knew that he is a famous, it's not a good option to voice their opinions in front of the master now', RML mocked himself. However, he always encourages them to address their opinions. Because "Everyone has good idea, just less people have opportunity to paint on the wall". When he has a meal with them, they can relax, be more confident and gain more inspiration.He is very thankful to all sorts of strange ideas from them. That's why he could make more fantastic art works and live a more colorful life.
He likes several forms of paintings, from cave painting to Abstract painting. His favorite painters are Tiepolo, Dali and Picasso. In his spare time, he reads books about Henry Miller and Dostoevsky. Recently, he is fascinated by a northern European thriller, like Stieg Larsson's work. Just as he likes a variety of mural works, RML also likes all kinds of music from Bach to Beatles to numerous others. At times, he also composes music, and even record music with musician Phi Palmer (Famous English Guitarist). He likes to listen to the music when he is at work, tailoring the music to shoot special situations. "It helps a lot" he always tells his students. "If you draw a scene of Southern America, you should feel that the sun is grilled your neck. If you couldn't feel it, I will let him try to put focus on his back."
Everyday is Full of Challenges in China
In 2010, when Rainer Maria Latzke was teaching at the Utah Sate University, he was invited by DTMA to be the first western classical mural professor in China. When he came to China, he realized that it has a big potential market. Because he saw lots of top hotels' luxury finishes and magnificent decorations. 'If some murals were added to the hotels, they will be icing on the cake. Along with the development of the interior design in China, the mysterious murals will have a bright future. The swimming pool and the spa inside the Hotels and Health institutions, have a lot of walls are waiting to be painted
 DTMA is an Elite Private Education Institutions, which invites different field experts from different parts of the world. Rainer Maria Latzke teaches and creates here with the professors who are from the field in movie, music, poetical works, and industrial design, etc. He is also Honorary Professor of the Shanghai Institute of Visual Art of Fudan University. When talking about Chinese students, he said frankly, there still have some gap between the Chinese students and Western ones. But they have a incomparable Passion". "What's more, some students asked me if they can spend nights in the studio to save some working time", "It is what I can not find from the Western students" as he is deeply moved.
 Right now, Rainer Maria Latzke is supervising several projects from different countries at the same time. When we asked him about if he paints at home in his spare time, he quoted a German proverb, 'The shoemaker's shoes are pretty worn'. He really did paint his castle which is located in Belgium and Nice. But that was the 90 century's. At times, his wife urges him to add some murals to the house. He always replies, "Honey, we can't afford my art work." he joked. "This is a joke, but I really don't have enough time." Luckily, compared to his early career, his traveling is less now. With the Frescography, he could create most of his murals at his studio in Shanghai, then goes to the scene to complete the last segment. Right now, he only does mural paintings to one or two places or paints for some significant clients yearly. As to the other projects, he only needs to see the clients、architects and mechanics for a while. One of his most important things in his life is to have a good breakfast with his wife and at 4pm to have a cup of tea together as well. To a foreigner who is living in a new culture background, he smiled and said everyday is full of novelty and challenges in China.
Tips:
Currently, professor Rainer Maria Latzke is busy preparing for his first Chinese exhibition. With this opportunity, he hopes to cooperate with Shanghai's professional interior designers to design 9 sets of distinctive art space. It will be the first exhibition to Chinese people about contemporary mural master's art work. Also it will be the first time visitors get to experience a special effect combining of western mural art with contemporary interior design together. The exhibition date is from January 19th, 2013 to March 31st, 2013. It opens to public at the Museum of Art in Thames Town,  Shanghai.