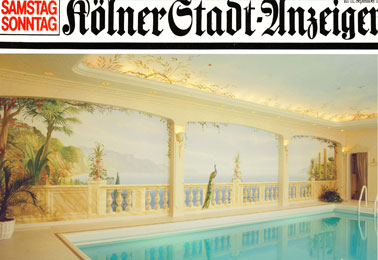 Illusionary view on Vienna
His works make astronomical prices
The from Euskirchen stemming artist Rainer Maria Latzke, who lives now in Monaco, got newly a unique order: He was asked to decorate the 120,000 sqft walls and ceilings of the Lanner Lehar hall in the Vienna town hall. Beside Latzke there have applied several other artists for this job. But the presented design of the1950 born artist, who studied under Joseph Beuys and Gerhard Richter at the Düsseldorf Academy of Fine Arts, convinced the jury: Latzke created a bright Orangerie with outlooks over Vienna.
The first part of the giant work was presented on November 7 on a opening with a gala diner, where this part have been presented to a hand-picked audience. "Our Frescographies are produced with a world-wide unique procedure" is stated on the website of the very busy artist. Since Latzke during a study stay in Italy saw the frescos of the Renaissance painters he was that fascinated that he decided to revitalize this old form of art. "It was a world which seemed not only modern but surrealistic to me, in which you could just walk in and which became life through the spectator", so the artist.
The Eifel  Michelangelo
His modern fresco painting quickly found enthusiasts and cared for astronomical prices for the works of "the Michelangelo of the Eifel". He painted in Arab royal palaces, for Daimler Benz and the "Scorpions" as well as for the Munich Gourmet Restaurant of Eckhart Witzigmann and the walls of the world´s biggest sailing boat the "Royal Clipper".
Weather "Forbes" or "Stern": The artist, who is supposed to signature his works with paints mixed with French Champagne is always good for the news…
By Michael Thalken