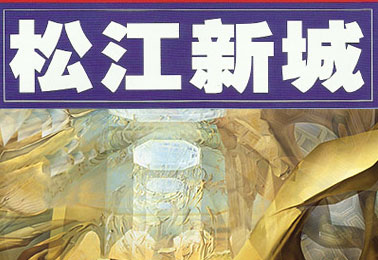 Art Life Without Boundaries
An Interview with Rainer Maria Latzke, one of the leading wall painters of our times
"I feel like a world citizen, a cosmopolitan, I'll be happy to be anywhere that they need me."
For most people, murals seem to be a very ancient art, mostly seen the by world in connection with the European Renaissance. As a contemporary mural master, Latzke's achievements in the field of mural not only earned him the title the "Modern Day´s Michelangelo", but also as the one of the world-best artists of the past 400 years according to the Russian Artist Association. As a famous German mural artist, Latzke was invited by Beijing DeTao Educational Institution to bring his Know How to China. In 2010 Shanghai Institute of Visual Art (SIVA) of the renowned Fudan University awarded Rainer Maria Latzke an Honorary Professorship. He started his art education in SIVA building 6 and set up his home in Thames town.
He says: "It's clear to see that China is a country full of the desire to learn.  I will bring the full extent of my knowledge to China. Having spent time here, I can see a good future of this art.  If I stay in Europe, it will not promote the development of Chinese and world art.  Chinese students are more open-minded than I expected; they have fervent desire for knowledge.  Although Chinese students are currently behind their European counterparts in some skills, I believe in the next 5 to 10 years, by virtue of their own efforts, they will become the best."
China and mural art in the eyes of Latzke
"My favorite place in China is the Great Wall. I go there every time I visit Beijing. It's even more impressive than I had anticipated – I can appreciate the Great Wall over and over again.  It is a great piece of art, more magnificent even than the pyramids of Egypt."  Latzke continues, "Each time I come to China, I seem to pass through a time tunnel into the 1980's in Europe – everywhere is full of vitality, the feeling is really terrific.
" In China, mural art is still a new field. There are hardly any practitioners of this art, so it is like a blank slate and full of potential. The reason China developed rapidly in recent years is the variety of development opportunities. It is different from the US and Europe, where there is now less space for development."
He says, "In the 1980s in Europe, like China now, few people were involved in the field of mural art. I traveled to Italy to study painting techniques and the mural art of the Renaissance, and found myself deeply attracted by the art form. When I walked into a frescoed room, it was just like walking right into a painted world and becoming a part of it. The feeling was indescribable."
Driven by his passion for mural art, Latzke's career developed in leaps and bounds.  Large companies began commissioning him to create murals. In 1985, he started to teach mural design techniques to students in his castle in Belgium. After 10 years, a large number of new mural artists emerged into the European market.  Latzke was hailed as "leading the contemporary renaissance of interior mural design."
Art is also about innovation
In the late 1980s, Latzke invented the Frescography reproduction technique and a new software to assist mural design. This patented technology uses independent image elements and combines to create a bespoke mural design.  The design of the finished product will be transferred to a canvas measured to the exact size of the wall, and finally uses a process similar to pasting wallpaper to install the mural into the designated place.  Latzke has used the Frescography reproduction technique to design murals in famous buildings around the world – for example, in the Vienna City Hall and public areas of the world's largest royal yacht, The Royal Clipper. This innovative technology significantly reduces both the mural's creation time and the cost, making the art form much more accessible to the world.
Today, Latzke has brought his technology to China, and hopes that more Chinese students can access it and use it for their own art work.  He says: "China will be one of the first countries to have the opportunity to learn this new technology. Mural art could soon flourish in China. Maybe China will even have a new Renaissance in the future. At that time, people around the world will come here especially to appreciate the original murals of China."
"There is no contradiction between making art and making a living"
"No one told me how to rely on art to make a living when I was in art school."  Latzke says, "There is a common problem in contemporary education; students are forced to abandon their specialities and interests because they can't find a job after graduation. It is really a great pity. As the first master of DeTao Education Group, Latzke has finally found a way to impart knowledge and teach students how to use it to survive.  DTMA has brought 100 world-industry masters together, covering industrial design, architectural design, film and television animation, to carry out high-end non-degree education, mentoring a new industry elite. When DTMA invited Latzke to become a master, he was excited.  "In fact, such a state-of-the-art education model first appearing in China is no surprise. Making education serve reality is the ultimate aim.  If they can rely on the knowledge I teach when they go out into the real world, can find a foothold and have the means to live, then my purpose is achieved. Otherwise the artistic skills they learn go to waste," Latzke says.
The town needs more cultural elements
Latzke likes the European architecture and beautiful environment of Thames Town, as do many other foreigners, but he believes he also has a responsibility to promote the town. Latzke says: "Attracting people to come to Thames Town is not only dependent on the attractive look, but also the culture. If the town introduces more European cultural elements, it will attract more foreign residents, thus bringing greater cultural vitality. It is of circular benefit. For example, if the town opens an Italian restaurant in a good location and publicizes it effectively, the foreigners living in and around the town will come here.  Chinese people too will be eager to experience the foreign atmosphere.  In turn, the town will gradually gain more popularity."  Latzke also suggests, "Additionally, some idle buildings of the town could be leased at a reasonable price to artists to use as their studios. Once there is one studio, a second will follow and before long many artists will have settled here."
Latzke also suggests holding some typical Western festivals like Christmas.  This could allow the residents of the town to experience and be part of the customs and dress of a traditional Western celebration. In Latzke's view, culture is an invisible force; the town needs to work together to improve. Latzke says that Songjiang is ideal for studying art. Thames Town in particular is a perfect  living space.  Latzke believes he feels a responsibility to pass on his knowledge to the next generation, whether in China or in Europe, because art is without boundaries.  He is full of confidence in China's art of the future, "I believe that everything is just a matter of time."
About Songjiang
Songjiang New City is a major new-town development located within Songjiang District. It was developed as part of Shanghai's "One City, Nine Towns" plan. The New City reflects Garden City design principles, with a large proportion of land allocated to green-space and parks. It is also home to the Songjiang University Town. The university town is a major higher education hub located in the district. It is the largest higher education hub in mainland China. Prof. Latzke's studio is integrated into the Shanghai Institute of Visual Arts campus.